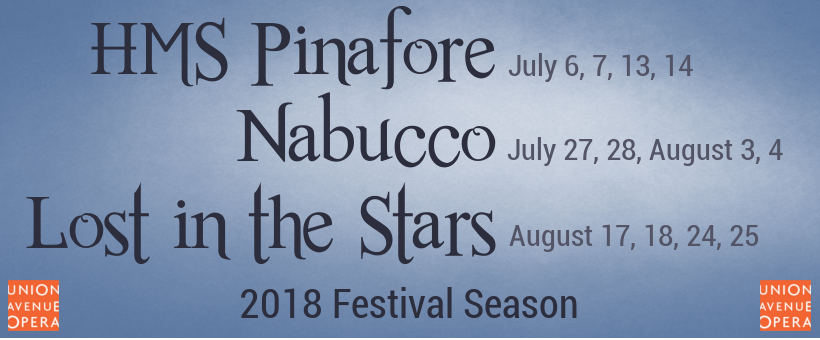 Thank you for your interest in auditioning for Union Avenue Opera's 2018 Festival Season.
The application is available through YAP tracker by either clicking on the following link or by copying and pasting the link into your browser window.
http://www.yaptracker.com/applications/union-avenue-opera-2018
No audition will be granted without submission of an online application.
Applications will be reviewed, and auditions granted, on a rolling basis. There is no guarantee audition times will still be available at time of posted deadline.
Once all audition times are assigned, Union Avenue Opera will place interested applicants on a waitlist and fill cancellations from said list as they become available. While it is not guaranteed, it is highly likely that you will be moved from the waitlist to the audition list if you are placed on it.
Audition Dates:
New York City, NY (times TBA)
Wednesday, January 24, 2018
Thursday, January 25, 2018
Friday, January 26, 2018
St. Louis, MO
Thursday, February 1, 2018
Friday, February 2, 2018
Saturday, February 3, 2018
Applications will be accepted until the deadlines outlined below or until all audition slots are filled.
YAP Tracker EARLY APPLICATION DEADLINE – November 30, 2017 
FINAL SUBMISSION DEADLINE – Open until filled or January 5, 2018
Application received through YAP Tracker on or prior to November 30 will receive a reduced audition fee if granted an audition (NYC $30; STL $10). Applications received on or after December 1 will be subject to increased audition fees (NYC $40; STL $15). There is no fee for artists auditioning for CHORUS ONLY.
2018 Season Dates:
Gilbert & Sullivan's HMS Pinafore – July 6, 7, 13, 14
Rehearsals begin June 18 (additional chorus rehearsals May/June)
Verdi's Nabucco – July 27, 28, August 3, 4
Rehearsals begin July 9 (additional chorus rehearsals May/June)
Weill's Lost in the Stars – August 17, 18, 24, 25
Rehearsals begin July 30 (additional chorus rehearsals May/June) 
An accompanist will be provided at all locations.
Union Avenue Opera will be hearing for all singing roles. Auditions Speaking/Acting only roles in Lost in the Stars will be scheduled at a later date. Union Avenue Opera does not hire covers. At this time there are no opportunities for children or artists under the age of 18.
Furthermore, Artists currently enrolled in an undergraduate program within 60 miles of Union Avenue Opera will not be granted an audition without completion of at least two years of Union Avenue Opera's FREE University Artists Outreach program, CRESCENDO. For more information on this free opportunity please visit www.unionavenueopera.org/crescendo/
To be considered for the chorus you must audition in St. Louis. ONLY local artists will be considered for chorus.
UAO does not accept (or consider) audio submissions in lieu of a live audition. UAO does not hear auditions outside of scheduled audition dates. Applications are reviewed on a rolling basis.
Click here to pay the EARLY REGISTRATION audition fee. To pay fee AFTER early registration deadline click here. You will need the password sent to you through YAP Tracker. All audition fees are non-refundable and non-transferable.
Agents wishing to submit artist(s) should download the 2018 Agent Submission Form and email it to auditions[at]unionavenueopera.org. Incomplete forms will not be accepted and must be sent by the agency listed on the form. Applications submitted via Agents are not eligible for early bird audition fees however early submission is still encouraged as applications will be reviewed on a rolling basis.
UAO will notify all artists after auditions are complete and casting decisions made (typically mid March). Please do not call the office inquiring feedback or results.
Principal/Comprimario rep list – DOWNLOAD
Chorus ONLY rep list – DOWNLOAD