Dear friends,
We hope this message finds you and yours well.
Since the beginning of this pandemic we have moved through each day with the hopeful expectation that we would be able to spend the summer together at the opera even amidst the stay-at-home orders and word of other cancellations. However, as the days have progressed, we have come to realize that it just isn't possible at this time. The health and safety of our patrons, our artists, and our community must come first. Therefore, the Board of Directors has made the difficult decision to cancel the 2020 Festival Season.
This is not a decision that was made lightly as there is a huge amount of work that has already gone into the season: role preparation by our artists, director meetings, and costume and set concepts by our designers to name a few. As such, we will be moving the entire 2020 slate of performances to Summer, 2021. We will offer the same season lineup and all our currently scheduled artists will be invited back.
Those that make their living performing and producing art are among the hardest hit financially by this pandemic and these inevitable cancellations made this difficult decision even more devastating. Therefore, we are committing to providing some level of compensation to all the nearly 125 professionals who were contracted to appear onstage, in the pit, and work behind the scenes this summer
Our artist fees are funded largely by ticket sales. We invite you to help support us in this effort by donating the value of your unpurchased tickets in honor of our commitment to paying our artists and ensuring the longevity of UAO. We plan to be here for you with the performances you love long after this crisis is behind us, but we need your help now to ensure that we are.
All gifts that are made between now and July 10 or ticket that is donated back will be matched dollar for dollar by our board of directors up to $25,000.

While our summer has been cancelled this isn't the last you will hear from us in 2020. We are hopeful that we will be able to gather this fall and therefore we will continue to develop our Third Thursday House Concert line-up and a November 5th Gala that was set to be announced later this spring. More on those events in due time.
It is heartbreaking to know that we won't be seeing you at the opera this summer, but we will see you again. Together we will see the other side of this, and together we will gather in celebration of an artform that is near and dear to so many.
Respectfully yours,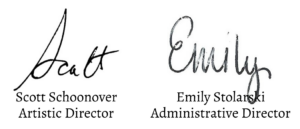 To our 2020 ticket holders, we will be reaching out to you in the next few days to discuss your ticketing options (refund, donation, credit). Please be patient as we work through this unprecedented situation.