Upcoming Events! 
La Vie de bohème  

| Dressel's
7:00pm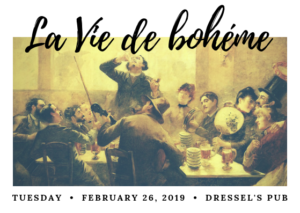 Join Union Avenue Opera on Tuesday, February 26 at 7 o'clock p.m. and help us kick off our Twenty-Fifth Anniversary Season at Dressel's Pub.
A delightful evening of dinner, drinks and wonderful entertainment by Union Avenue Opera veteran artists and a few new faces! Enjoy some of the most wonderful voices St. Louis has to offer in this intimate setting in Dressel's Pub Above.
Seating is limited and reservations are required by February 20th.
Doors open at 6:45 PM
Bar opens and appetizers at 7:00 PM
All tickets include an Italian themed meal (served buffet style) and limited bar service. Patron level tickets also include premium reserved seating at dinner and a $50 tax-deductible donation to UAO.
The Pub Above at Dressel's Public House
419 N. Euclid
St. Louis, MO 63108
$125 Patron Ticket
(includes reserved seating in the dining room,
and a $50 tax-deductible donation)
$75 Adult Ticket

The Pub Above is accessible via stairs only. We apologize for this inconvenience.