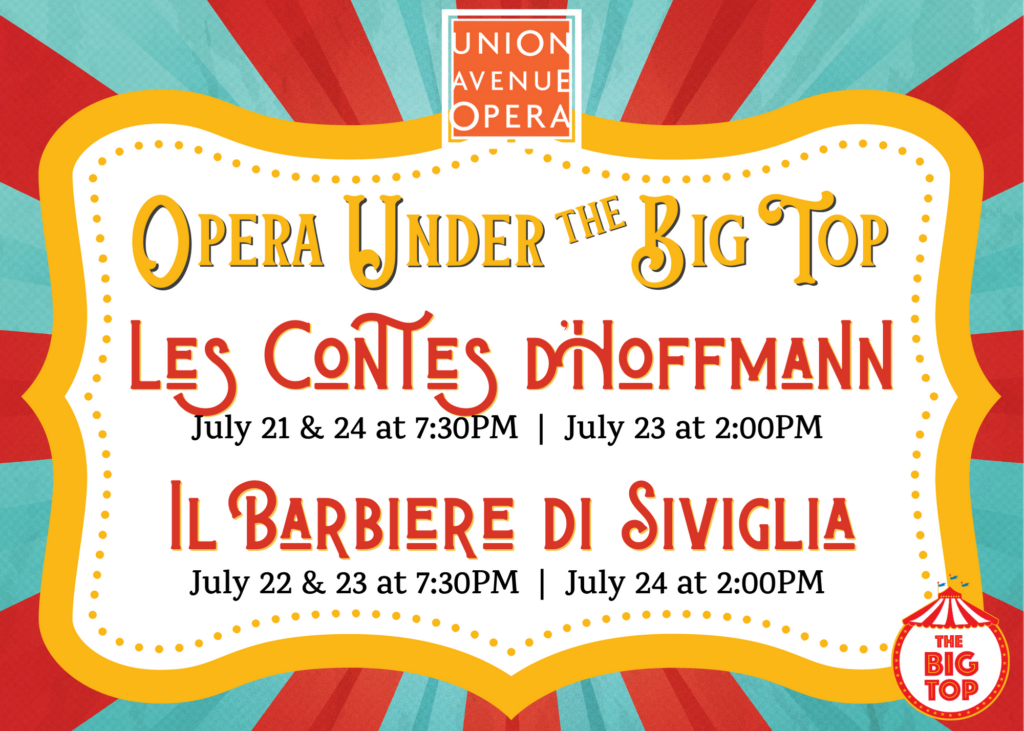 Join us this summer for Opera Under the Big Top as we make our return to presenting live, in-person opera with performances of Offenbach's Les contes d'Hoffmann and Rossini's Il barbiere di Siviglia at The Big Top, in St. Louis' Grand Center district. The operas will unfold, acted in front of UAO's wonderful orchestra on the Big Top stage with costumes and lights to the delight of physically distanced audiences in the large open-air tent.
This summer, audiences will have the opportunity to see two classic, beloved operas in one week — even on the same day — as we offer matinee performances for the first time in eight years.
The Big Top, operated by the Kranzberg Arts Foundation, will employ rigorous COVID-19 mitigation policies for the benefit of all guests, staff, and artists, including a contact-less ticketing and concession experience. Unvaccinated individuals will be required to were masks at all times. Vaccinated individuals should wear masks while moving about the facility.
The Big Top is ArtSafe Certified by the Missouri Arts Council and you can read more about their COVID-19 Mitigation Policies HERE. The Big Top is located at 3401 Washington Avenue, St. Louis, MO 63108.
---
Offenbach's
Les contes d'Hoffmann
July 21 and 24 at 7:30PM
July 23 at 2:00PM Friday matinee performance
presented in French with English supertitles
Rossini's
Il barbiere di Siviglia
July 22 and 23 at 7:30PM
July 24 at 2:00PM Saturday matinee performance
presented in Italian with English supertitles
---
Ticketing Information
Tickets for the 2021 Festival Season will be available exclusively through MetroTix.com or by calling 314-534-1111 or toll-free 800-293-5949.
Due to physical distancing, there are limited tickets available this summer. As such The Big Top has maximized their seating chart and tickets are available in blocks (2, 3, 4, or 5 tickets) and there are a limited number of single tickets interspersed throughout the venue. Therefore, we encourage you to gather your friends and order tickets together. To sit together, tickets must be ordered together.  
2021 Season Schedule:
Wednesday, July 21 at 7:30PM – Les contes d'Hoffmann  
Thursday, July 22 at 7:30PM – Il barbiere di Siviglia  
Friday, July 23 at 2:00PM – Les contes d'Hoffmann – Matinee Performance  
Friday, July 23 at 7:30PM – Il barbiere di Siviglia  
Saturday, July 24 at 2:00PM – Il barbiere di Siviglia – Matinee Performance  
Saturday, July 24 at 7:30PM – Les contes d'Hoffmann  
[The evening performances start at 7:30PM this year which is 30 minutes earlier than our traditional start time. All performances take place at THE BIG TOP located at 3410 Washington Blvd, St. Louis, MO 63103]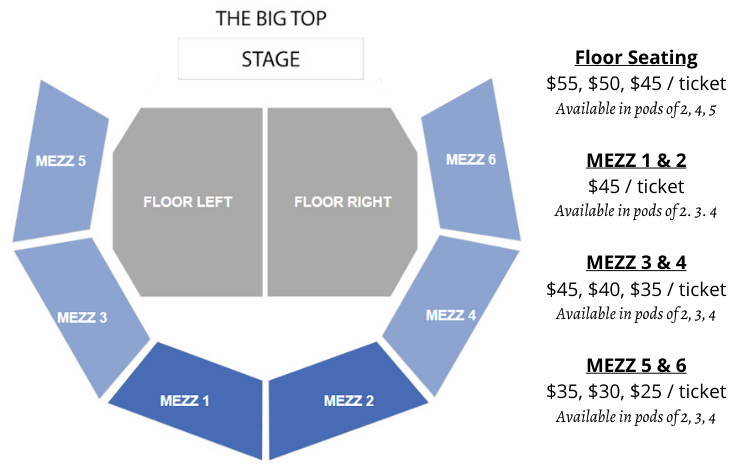 Season Subscriptions are not available in 2021, however as a thank you to our past subscribers, we are offering early access to tickets, similar to our Subscription Renewal period. When we return to our home, and a three-opera season, in 2022, our 2019 and 2020 subscribers will again be eligible for early renewals.
We apologize in advance, but mail-in orders are not available this summer. Additionally, the Union Avenue Opera Box Office will be unable to assist you in purchasing tickets. Once on sale, all orders must be placed directly with MetroTix.
---
Know Before You Go Lecture Series
Also known as the Friday Night Lecture Series, this summer's lectures will be offered online starting the week before the opera for your in-home viewing enjoyment. Join our host, Dr. Glen Bauer as he discusses the opera's historical importance, guide you through the (sometimes convoluted) plot line, and offer a sneak peek of the music to come.
---
Your Safety Is Our Priority
Physical distancing is enforced through reduced capacity and physically distanced seating assignments.
Protective face coverings are required to enter and must be worn at all times while moving about the facility, except when eating or drinking.
The Big Top will offer the opportunity for a contact-less patron experience. Food and beverage ordering and payment can be conducted via online/mobile platform.
Event will have dedicated, on-site staff to regularly clean high-touch surfaces with EPA certified cleaning supplies.
Advance ticket sales only. No day-of walk-up sales on site.
There will be no printed program books available on site in 2021. Programs will be available to view on your smartphone while at the performance or online at home.
View The Big Top's full COVID-19 Mitigation Policy
---
Get Involved – Volunteer!
There will still be opportunity to volunteer as ushers during the 2021 Festival Season at the Big Top. We are working out the details with the venue now, however signups are not open yet. Due to COVID-19, all ushers will be required to participate in mandatory training with the Big Top staff. More information coming soon!
---
We'll be back home in 2022
Moving our performances to The Big Top this summer will allow us to safely return to presenting in front of live, in-person audiences. The tent more than doubles our seating capacity (due to current, local guidelines) and will allow for more opera lovers to join in the excitement of our return. However, know that we are committed to returning to our home at Union Avenue Christian Church in 2022, and your continued support will make that possible.
---
Frequently Asked Questions
Coming Soon!
Have questions? Email info@unionavenueopera.org