On-Sale Dates
February 1 – Season Subscription Renewals
February 15 – Comprimario Society Season Subscriptions
March 1 – New Season Subscriptions
March 22 – Comprimario Society Single Ticket
April 5 – Public Single Ticket
Box Office Hours:
The box office is generally open Monday through Thursday 10:00am to 3:00pm, however in the off-season we have limited staffing and therefore there may not always be someone in the office able to assist you. Please know that your call is important to us and we will contact you as soon as we are back in the office. Additionally, you can email info@unionavenueopera.org
New Seating Chart for 2022
Union Avenue Opera is in the process of transitioning to a fully reserved house starting this summer. All seats will be assigned at the time of purchase.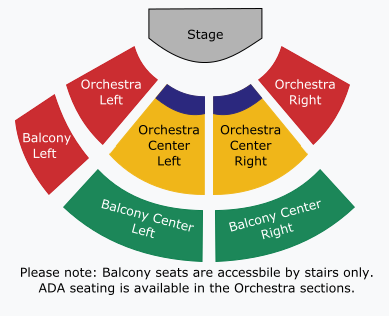 While the sections may have new names, they don't have new prices. Ticket prices will remain the same as they were in 2019 when we were last in our home venue.
| 2022 Ticket Prices | Season Subscription | Single Ticket | Single Ticket [Senior] |
| --- | --- | --- | --- |
| Patron | $165* | $55** | $55** |
| Center Orchestra | $115 | $45 | $42 |
| Side Orchestra | $80 | $35 | $32 |
| Center Balcony | $115 | $45 | $42 |
| Rear and Side Balcony | $80 | $35 | $32 |
*Includes $50 tax-deductible donation **Includes $10 tax-deductible donation per ticket
Subscribe and Save!
Once on sale, Season Subscriptions can be purchased at reduced prices through the final performance of Eugene Onegin. Save 24% when you purchase a three-opera General Admission Season Subscription for $80 or save 15% when you purchase a Reserved Subscription for $115.
Why purchase Season Tickets to Union Avenue Opera?
DISCOUNTED TICKET PRICES – When you purchase Season Tickets you save! Reserved Floor and Balcony Tickets are available at a 15%-off discount and you save 24% when you purchase a General Admission Season Subscription. Additionally, UAO offers Legacy Subscriptions, if Season Ticket prices go up, you don't pay the increased rate until the following season. In other words you are guaranteed your price for at least two seasons!
PURCHASE ADDITIONAL SINGLE TICKETS – When you purchase Season Tickets you have the ability to purchase additional Single Tickets at the same time. No waiting until Single Tickets go on sale, simply add them to your subscription order (must be ordered through the box office, single tickets cannot be added to online orders).
FREE TICKET EXCHANGES – We realize that plans change and when you purchase Season Tickets we will wave the ticket exchange fees should you need to change your tickets for a different night.
Additionally, you can donate any unused tickets back to the opera up until curtain time (48-hours in advance for non subscription tickets), and you will receive a tax-deductible donation for the ticket's value.
ADVANCE RENEWALS – As a season subscriber you will have the first opportunity to renew your tickets every year. You get the best seats at the best price before tickets go on sale to the general public.
New Season Tickets for the 2022 Festival Season can be purchased by calling the UAO Box Office at 314.361.2881 or online starting Tuesday, March 1, 2022.
COVID-19 Safety Protocols
We are thrilled to welcome guests back to Union Avenue Opera. The safety of our guests, artists, and staff, is our greatest priority. In response to the current COVID-19 infection numbers, we have updated our safety protocols which can be found HERE. We will continue to monitor and adjust these policies as appropriate. Thank you for your patience and understanding as we operate Union Avenue Opera differently to ensure a safe environment for all.
Read UAO's COVID-19 Safety Protocols