Make the Most of Your Next Visit
Join us in our intimate and inviting home inside Union Avenue Christian Church. The gorgeous sanctuary becomes our theater complete with individual padded seats, sunken orchestra pit, and incredible acoustics. Experience opera within an arm's reach! While our operas are performed in original language, our large projected English translations will keep you in the action.
All performances take place at Union Avenue Opera, within the historic Union Avenue Christian Church.
Union Avenue Opera
733 N. Union Boulevard
Saint Louis, Missouri 63108
[email protected]
314.361.2881- phone
June through August: Monday – Friday 10am to 3pm
September through May: Monday – Thursday 10am to 3pm

Our physical offices remain closed to walk in visitors. Please call ahead to make an appointment to visit the UAO offices. Due to the continuing COVID-19 Pandemic we are limiting visitors to Union Avenue Opera for the protection of our artists and staff. To send a general inquiry please email [email protected] or you can email our Administrative Director Emily Stolarski at [email protected].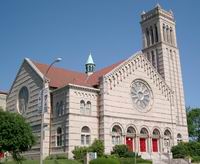 Parking:
Union Avenue Opera is located at the intersection of Union Boulevard and Enright Street, just north of Delmar Boulevard. There is a small lot located just west of Union Avenue Christian Church and overflow parking available at Metropolitan Psychiatric Hospital (accessible off Enright Street). Street parking is available on both sides of Enright Street and Union Boulevard. Patrons are encouraged to arrive early to ensure parking. A limited number of handicap parking spots are available in the lot west of the opera and are available on a first come basis.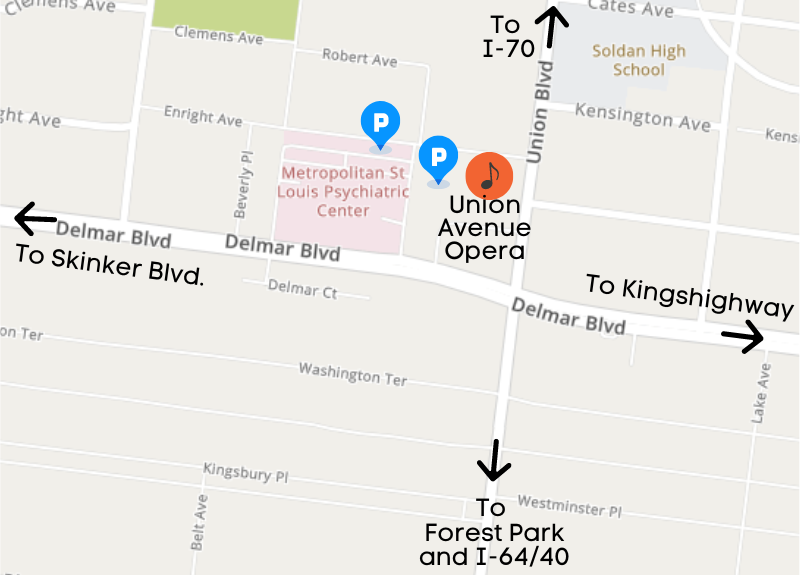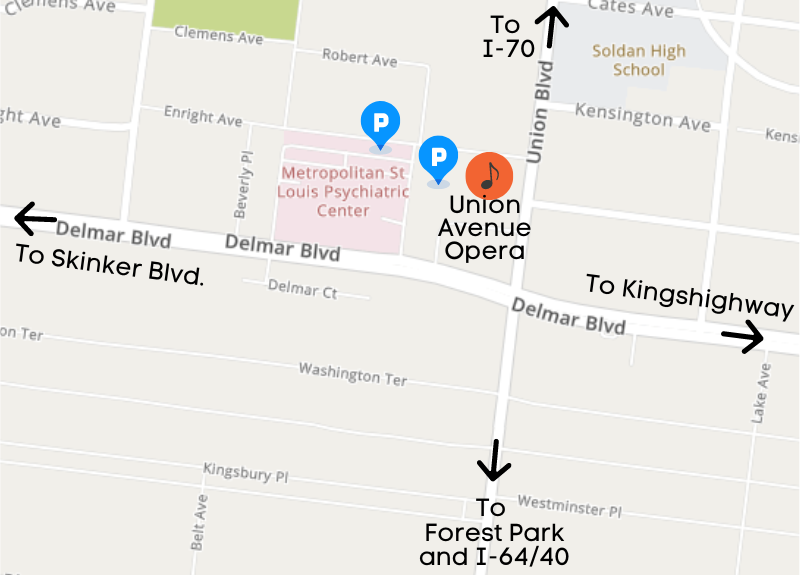 When to Arrive:

Plan to arrive at Union Avenue Opera at least 20 minutes prior to the performance. This will give you adequate time to find parking, purchase/pick up tickets, visit the restrooms, and be seated before the performance begins. UAO observes the national opera standard of a No Late Seating Policy. While we understand that traffic conditions, public transportation, or weather can have unexpected effects on your arrival at UAO, we wish to minimize disruptions for our seated patrons and for our artists onstage. Please see the Late Seating Policy for more details.
Curtain Times:
Union Avenue Opera will do everything in its power to start the performance at the scheduled curtain time: Friday and Saturday nights at 8pm and the doors open 30 minutes prior to curtain.
What to Wear:
Union Avenue Opera believes the most important thing is to feel comfortable and enjoy the performance. Some patrons choose to attend the opera in fancy dress while others come in casual attire. Though the theater is heated [in the winter] and air-conditioned [in the summer] the temperature has been known to fluctuate greatly due to the historic nature of the church.
Please be considerate of fellow audience members and refrain from wearing large hats or excessive perfume.
Venue Notes

:
In case of emergency, await instruction from UAO leadership before exiting through the closest doors. From the balcony, the rear doors of the theatre (Union Blvd doors); from the main floor, the Enright Lobby doors, or the rear doors.
Restrooms are accessible from the main floor only. Women's restrooms are located on the first, second, and lower floors. Men's restrooms are located on the second and lower floors.
No food or beverages are permitted inside the theatre.
Union Avenue Christian Church is a non-smoking facility.
Anyone creating a disturbance or distraction to other patrons will be asked to leave the venue and ushered out of the building without the option of re-entering the performance venue – No refunds will be given.
Please recycle your program following the performance.
Mobile/Recording Devices:
Mobile devices should be turned off before entering the theater (no calls, texting, emailing, photography, or video recording). Remember that even low-volume or vibrate settings, as well as text messages, can ruin the opera for those around you. Cameras, recording devices, food, beverages, and smoking are not permitted inside the theater. UAO has a zero tolerance regarding the use of cell phones, cameras or other recording devices during the performance. Patrons utilizing the above devices during a performance will be asked to leave. No exchanges or refunds will be issued.
Lost and Found:
Call the Box Office at 314.361.2881 or Union Avenue Christian Church at 314.361.8844 during regular business hours.
Late Seating Policy:
As a courtesy to our patrons already seated and the performers, latecomers or persons who have left the theater after the performance has begun will not be seated until there is an appropriate break [determined by UAO Management] or until intermission, if applicable. Latecomers will be seated in the closest vacant seat (not always the best available seat) at an appropriate break until intermission. UAO accepts no responsibility for the inconvenience and can make no exceptions for late arrivals. Refunds or exchanges are NOT issued to latecomers. When traveling to the opera, please allow ample time for traffic delays, road construction, and parking.