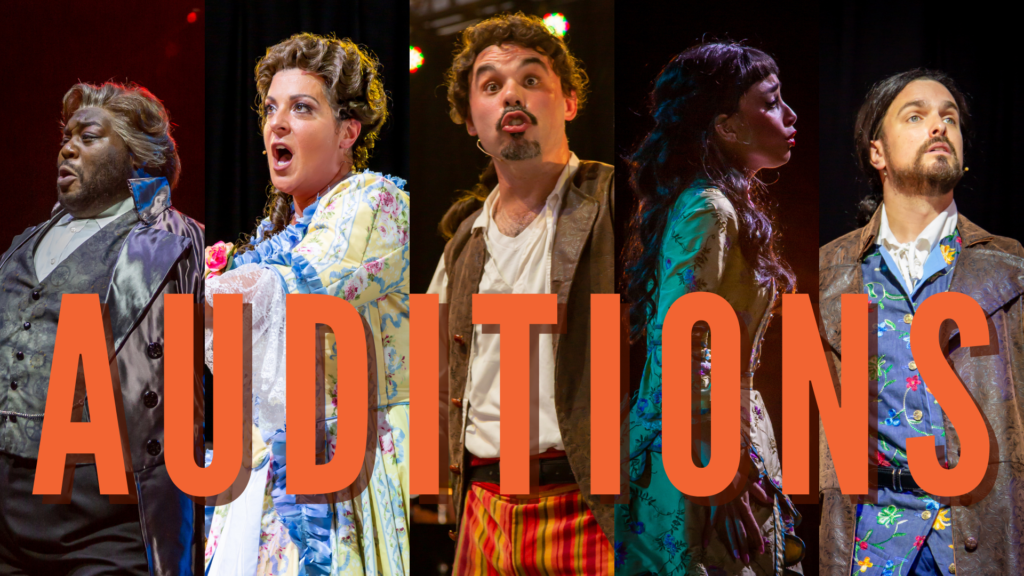 Thank you for your interest in auditioning for Union Avenue Opera's 2022 Festival Season.
Tchaikovsky's Eugene Onegin
July 8, 9, 15, 16
Presented in Russian. Rehearsals begin June 20 (additional chorus rehearsals May/June)
Roles Available: Tatiana; Onegin; Prince Gremin; Larina; Filpyevna; Captain; Zaretsky; Triquet; Chorus
Verdi's Falstaff
July 29, 30, August 5, 6

Presented in Italian. Rehearsals begin July 11 (additional chorus rehearsals May/June)
Roles Available: Dr. Caius; Bardolfo; Pistola; Chorus
Sondheim/Wheeler's A Little Night Music
August 19, 20, 26, 27

Rehearsals begin August 1 (no chorus opportunities)
Roles Available: ALL
The application is available through YAP tracker by either clicking on the following link or by copying and pasting the link into your browser window.
http://www.yaptracker.com/applications/union-avenue-opera-2022
If you are not a member of YAP, you can create a free guest account by clicking "register" and then scrolling to the bottom of the page.
No audition will be granted without submission of an online application.
Applications will be reviewed, and auditions granted, on a rolling basis. There is no guarantee audition times will still be available at time of posted deadline.
Once all audition times are assigned, Union Avenue Opera will place interested applicants on a waitlist and fill cancellations from said list as they become available. While it is not guaranteed, it is highly likely that you will be moved from the waitlist to the audition list if you are placed on it.
Audition Dates:
St. Louis, MO
Thursday, January 27, 2022
Friday, January 28, 2022
Saturday, January 29, 2022
**ALL artists must provide proof of vaccination at time of audition. Failure to provide proof at time of audition will result in forfeiture of audition slot and no refund will be given. Artists with a medical exemption should bring proper documentation from a licensed US medical professional along with a negative COVID-19 test taken within 72 hours of audition. Negative COVID-19 test results will not be accepted without accompanying documentation from a medical professional indicating a valid medical exemption, no exceptions.
Union Avenue Opera will not be holding New York auditions in 2022, we will return in 2023.
Applications will be accepted until the deadlines outlined below or until all audition slots are filled.
FINAL SUBMISSION DEADLINE – Open until filled or January 20, 2022
Approved applications subject to audition fees (STL $15). There is no fee for artists auditioning for CHORUS ONLY.
An accompanist will be provided at all locations.
CASTING NOTES:
UAO will only be hearing artists for the following roles:
In Eugene Onegin: Tatiana (sop); Onegin (bar); Prince Gremin (bass); Larina (mezzo); Filpyevna (mezzo); Captain (bass); Zaretsky (bass); Triquet (tenor); Chorus (SATB)
In Falstaff: Dr. Caius (tenor); Bardolfo (tenor); Pistola (bass); Chorus (SATB)
In A Little Night Music: All roles available
All applicants for the January 2022 auditions must be 18 or older.
Auditions for youth/children and non-singing/speaking roles will be held in spring 2022.
Union Avenue Opera only considers local artists for chorus. Chorus positions are paid however housing is not provided for members of the chorus therefore artists must reside in or around STL during the production period and be available for 3-4 chorus rehearsals in late May/early June (TBD).
All positions are compensated. Principal and Comprimario roles include housing for non-local artists and travel stipends are available in some instances. UAO cannot provide housing for unvaccinated artists.
Transportation to and from the rehearsal/performance venue is the responsibility of the artist.
Union Avenue Opera does not hire covers.
Furthermore, Artists currently enrolled in an undergraduate program within 60 miles of Union Avenue Opera will not be granted an audition without completion of at least two years of Union Avenue Opera's FREE University Artists Outreach program, CRESCENDO. For more information on this free opportunity please visit www.unionavenueopera.org/crescendo/
At this time UAO is not accepting audio/video submissions in lieu of a live audition. UAO does not schedule auditions outside of scheduled audition dates. Applications are reviewed on a rolling basis.
All audition fees are non-refundable and non-transferable.
Agents wishing to submit artist(s) should download the 2022 Agent Submission Form and email it to info@unionavenueopera.org. Incomplete forms will not be accepted and must be sent by the agency listed on the form.
UAO will notify all artists/agents after auditions are complete and casting decisions made (typically mid March). Please do not call the office inquiring feedback or results.
Audition Rep Requirements. Please download the appropriate UAO rep list to see audition requirements.
Principal/Comprimario rep list – DOWNLOAD
Chorus ONLY rep list – DOWNLOAD
All artists are required to bring a hardcopy resume, headshot, proof of vaccination, and rep list. The rep list does not need to be submitted in advance and should consist of the following:
Artists auditioning for Principal and Comprimario roles should prepare five (5) arias including at least one (1) selection from the opera(s) you wish to be considered and one (1) selection in English.
Artists auditioning for Chorus ONLY should prepare three (3) arias including one (1) selection in English.
Union Avenue Opera presents all operas in original languages and artists are highly encouraged to present selections in their original language. Artists are encouraged to present selections from the roles for which they wish to be considered, if a role does not have an aria choose a selection that is representative of the style/composer. UAO does not guarantee the artist more than one selection at the time of audition. 
QUESTIONS?
Email info@unionavenueopera.org
Please no phone calls.